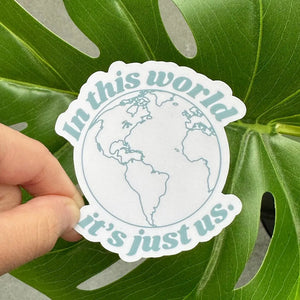 Decal - In This World, It's Just Us - Harry Styles
Size: 2.5" x 2.5"
Water and weather resistant. High quality and durable. 
This decal is great for decorating your water bottle, laptop, water bottle, phone case,  notebook, and so much more! Not optimized for cars or outdoor use due to prolonged sun exposure.
Please note these stickers are water-resistant, but are not waterproof. This means that stickers can be hand washed and put under running water, but it is not recommended to soak them or put them in the dishwasher. 
*for best results *
1. Choose a smooth surface and be sure to clean and allow it to dry thoroughly.
2. Carefully peel the sticker from its backing.
3. Press the sticker firmly in place.
4. Allow recommended 24 hours for sticker adhesive to "cure" before further handling or hand washing.
---
We Also Recommend